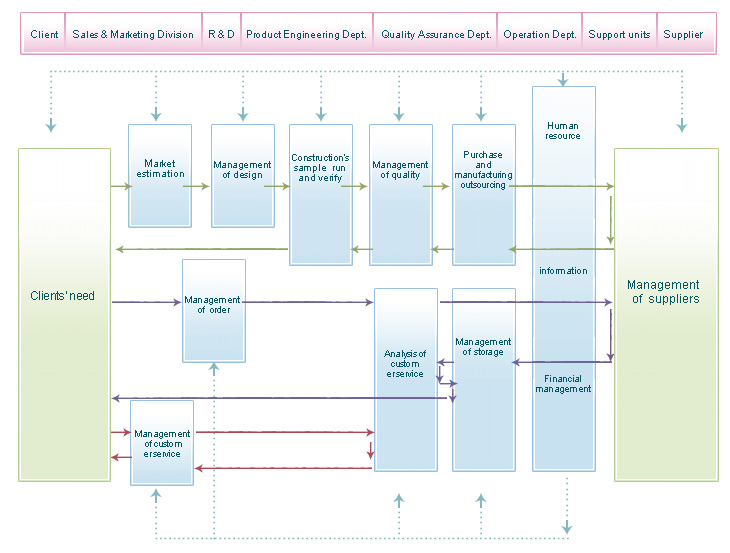 By going through transformation and development over many years, E-CMOS Corporation has come a long way to have a presence in the analogy IC sector. While analogy products have carried more weight and their gross profit margins are increasingly lifted upward, E-COMOS has devoted its efforts to developing the voltage adjustment products in the power supply management field. The products have the highest visibility in the standard analogy IC sector. Compounding IC research and development, E-CMOS has gradually extended its product line to handsets, digital cameras, network communications, MP3 players, computer notebooks, and digital photo frames, etc. At the same time, E-CMOS has also rapidly applied its distribution system to the growing industries, regions and clients. Thus, the new products that E-CMOS plans to launch in the future include white light LED driver IC from the panel backlight source, high-end DC converters, handset hall switches and power supply management IC, etc. Furthermore, E-CMOS will place more focus on the development of program controlled high power white light OLED driver IC and integrated power supply management IC, in an attempt to enhance its products' added value.
In order to fulfill its goal to become a world-class IC supplier, E-CMOS has been dedicated to establishing a world standard quality management system. In addition, with its conviction of environmental protection, it has promoted green products in full swing, in the hope of playing a part in a severe competition market and turning out to be a leading supplier of green products. By building the system, the company personnel across the board may understand the importance of good quality, which is the driving force for E-CMOS to make headway for continuous innovation and improvement. As a result, it will meet the demand of its clients throughout the world.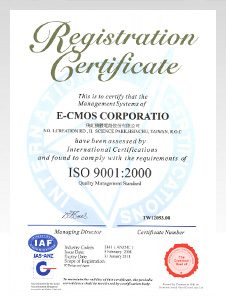 ECMOS' practical accomplishments in product quality in recent years:
2004: ISO9001:2000 Certification
2008: Qualifed for ISO9001:2000 Recertification
2008: Introduced QC080000 Green Prduct Management System Certification
In addition, ECMOS will not only satisify clients from aspects of supply, price, and technology stability, but we will also offer swift and cordial response to clients with special needs. Client's trust and satisification is the driving force for the sustained development of our company.
General Manager