General description
The EC95810 series are highly accurate, ultra-low current consumption  voltage detectors, developed using CMOS process. A delay circuit is built-in for
microprocessor supervisory circuits in MCU and digital systems. Two output forms N-channel open-drain and CMOS output are available. The device is ideal for battery powered portable devices which require low current consumption.
The EC95810 consists  of a comparator, a voltage reference  unit, a resistor divider, an output driver, a hysteresis circuit, and  a  delay circuit. Thedetection voltage is  fixed internally with ±2.0% accuracy by advanced trimming technology.
The devices are available in SOT-23, SC-82 and SC-70 packages.

Features
Ultra-Low Quiescent Current:1.2 µA (Typ.)
High Accuracy of Detection Voltage:±2%
Hysteresis Width 5% VDET (Typ.)
Detection Voltage:1.6V to 6.0V (0.1V Step)
Built-in Delay Circuit:200ms (Typ.)
Operating Voltage Range:1.0V to 6.0V
N-ch Open Drain and CMOS Output
SOT-23, SC-82 and SC-70 Packages
RoHS Compliant and 100% Lead (Pb)-Free and Green (Halogen Free with Commercial Standard)
Applications
l  Microprocessor Reset Circuitry
l    Memory Battery Back-up Circuits
l    Power-on Reset Circuits
l    Power Failure Detection
l    System Battery Life and Charge Voltage Monitors
l    Delay Circuitry
Pin Configurations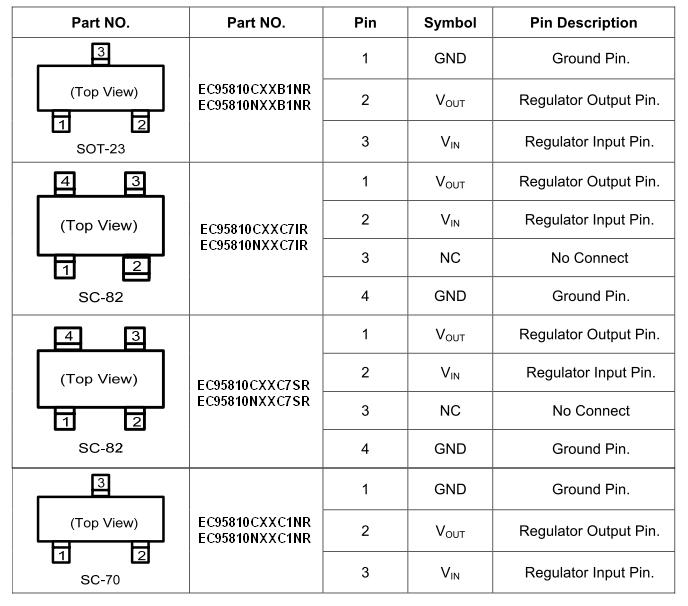 Ordering info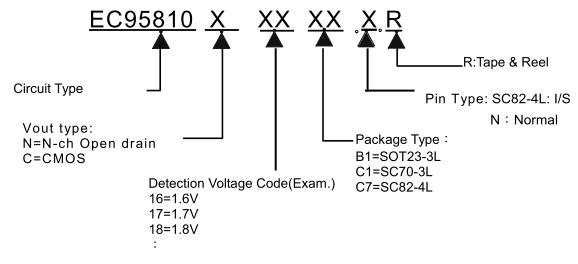 Typical Applications circuit

>")}